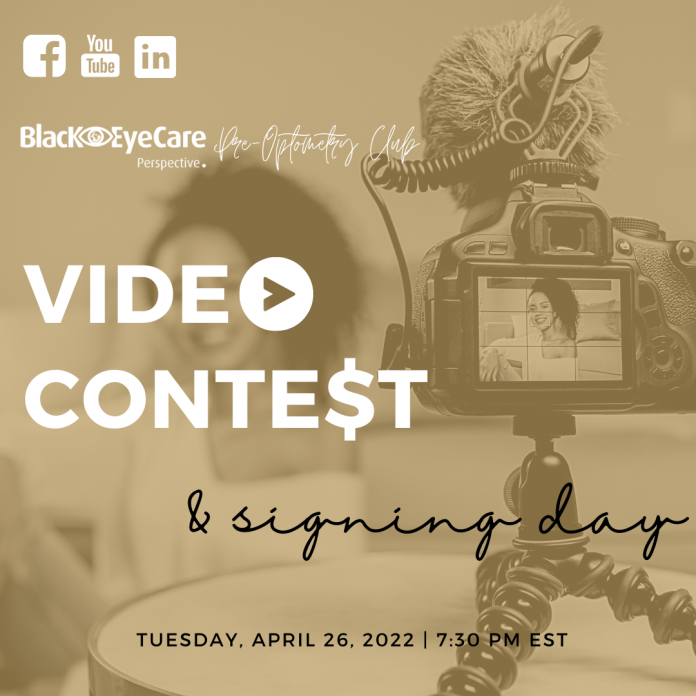 For Immediate Release
March 15, 2022
SIGNING DAY is a celebration of the achievements of the BEPPOC members who have gained acceptance into a school or college of optometry, as well as recognizing any student who will be a part of the class of 2026. 
PALM BEACH GARDENS, FL – Black EyeCare Perspective, founded by optometrists Drs. Adam Ramsey and Darryl Glover, was designed, and created to cultivate and foster lifelong relationships between African Americans and the eyecare industry. Along with Drs. Essence Johnson (Chief Visionary Officer), Jacobi Cleaver (Director of Program Management) and Tiffany Humes (Business Transformation Manager), Black EyeCare Perspective is redefining the color of the eyecare industry 1% at a time by creating a pipeline for Black students into optometry. Black EyeCare Perspective's 13% Promise initiative is a call for equity in the increase of Black and African American representation in the industry to align with the United States Census population.
Black EyeCare Perspective has been able to affect the most change through the chartering of the Black EyeCare Perspective Pre-Optometry Club (BEPPOC). Since August 2020, BEPPOC has grown to over 105 members. The inaugural Signing Day event, in partnership with Johnson & Johnson Vision, celebrated the acceptance of 34 students into the class of 2025. Dr. Charissa Lee (Head of North America Professional Affairs, Johnson & Johnson Vision) delivered the keynote speech as well as announced the winners of the video contest. Through its charitable arm, Diversity Perspective, Inc. and Scholarship America, Black EyeCare Perspective awarded $23,500 in matriculation grants to 19 recipients and connected students to many other resources and opportunities in the industry and beyond. They are excited to celebrate the achievements of this year's class and invite you to be a part of an unforgettable night.
To learn more about Black EyeCare Perspective, their initiatives, and ways to support visit: https://blackeyecareperspective.com
© Black EyeCare Perspective, 2022. All Rights Reserved.
Media Contact
Samantha Wallen
Black EyeCare Perspective