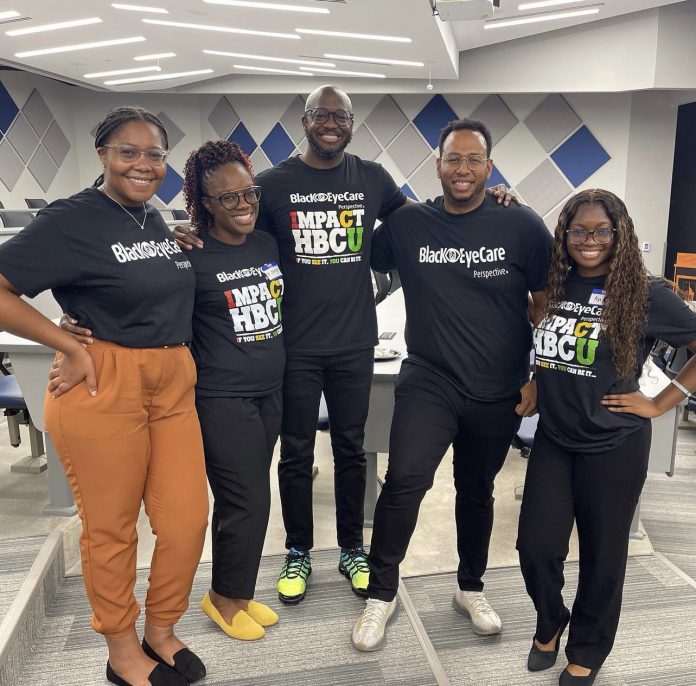 FOR IMMEDIATE RELEASE
Contact
Courtney Myers
Red Havas
412 512 6542 tel
The two companies will provide educational experiences at three historically Black colleges and universities (HBCU) in November, creating an opportunity to spark multicultural individuals' interest in joining the field of optometry
PINELLAS PARK, Fla., November 4, 2022 – Currently, 13.6 percent of the U.S. population, or nearly 46 million people, identify themselves as Black or African American—yet this demographic represents less than two percent of practicing optometrists and only four percent of students enrolled in optometry school. This disparity has empowered Transitions®, along with the Transitions Diversity Advisory Board, to partner with Black EyeCare Perspective, an organization committed to increasing diversity, equity and inclusion in the eyecare industry, for the HBCU Light Intelligent Tour.
To assist in increasing the admittance of Black and African American students into accredited optometry programs and ultimately increasing the amount of practicing diverse optometrists, the HBCU Light Intelligent Tour will visit three historically Black universities in November. Tour stops include:
North Carolina Central University – November 7, 2022
Tennessee State University – November 14, 2022
Florida Agricultural and Mechanical University – November 28, 2022
While on campus, students will learn about the profession of optometry, how to join Black EyeCare Perspective's pre-optometry club and the benefits of Transitions® brand lenses. In addition, the tour will educate students on the importance of annual comprehensive eye exams and overall health needs of diverse patient populations. Students will also be invited to a private dinner—giving them the opportunity to intimately connect with practicing Black optometrists.
"As 40 percent of optometrists who identify as Black or African American graduate from historically black colleges and universities, the HBCU Light Intelligent Tour aims to encourage students in joining the field of optometry," said Dr. Darryl Glover, co-founder of Black EyeCare Perspective and practicing optometrist at MyEyeDr. "We also hope that our representation on campus inspires students to imagine themselves in our field as they will see successful Black optometrists who are striving to change the world."
In addition to student outreach, Transitions and Black EyeCare Perspective hope to create lasting partnerships with university presidents, faculty and pre-health advisors. The ambition is to provide the HBCUs with continued support to foster student interest in optometry including providing them with preparation resources for the Optometry Admission Test.
"This tour is just one of the many initiatives the Transitions Diversity Advisory Board has undertaken to recruit multicultural talent into the eyecare profession," said Arlene Segovia, marketing manager, trade communications, Transitions. "Increasing diversity in the eyecare industry will ensure future optometrists can effectively advocate for multicultural patient needs."
About the Transitions® Brand
Transitions® eyeglass lenses and shields set new standards of advanced performance to provide ever increasing visual comfort and optimum harmful blue light protection, and always blocking 100% of UVA and UVB rays. Product leadership, consumer focus, and operational excellence have made the Transitions® brand one of the most recognized consumer brands in optics. For more information about Transitions® Light Intelligent Lenses™, visit Transitions.com or TransitionsPRO.com.
About Black Eyecare Perspective
Black EyeCare Perspective, founded by optometrists Dr. Adam Ramsey and Dr. Darryl Glover, was designed and created to cultivate and foster lifelong relationships between Black eyecare professionals and the eyecare industry. Along with Drs. Essence Johnson (Chief Visionary Officer) and Jacobi Cleaver (Director of Program Management), Black EyeCare Perspective is redefining the color of the eyecare industry 1% at a time by creating a pipeline for Black students into optometry. Black EyeCare Perspective believes you must be targeted in your recruitment and intentional in your impact to increase the representation of African Americans in all areas of the eyecare industry. Their industry partnerships and programming support their 13% Promise, a call for equity in eyecare through awareness, actionable change and accountability.
# # #