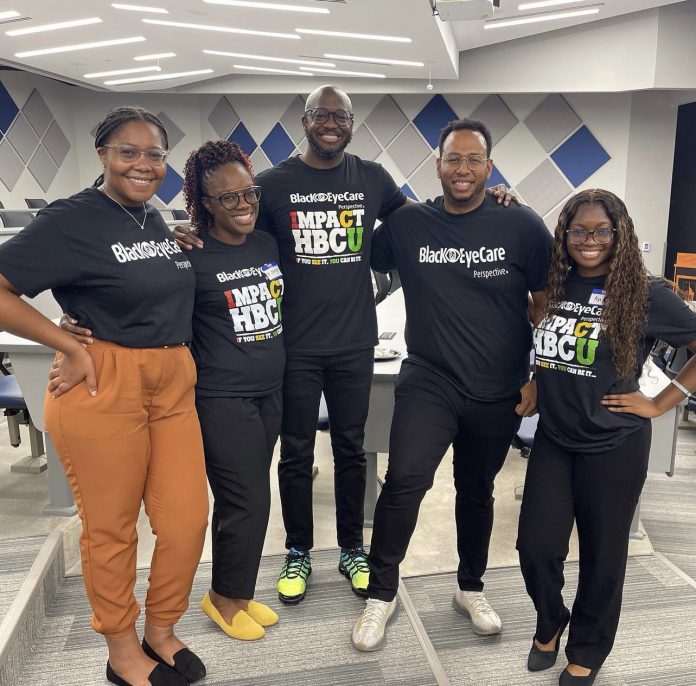 PRESS RELEASE
December 19, 2022
Media Contact:
Ashley B. Torres Avila
Ashley.TorresAvila@VSP.com
916.851.6288
VSP Vision and Black EyeCare Perspective Celebrate 1st Year of Partnership to Increase Awareness of Optometry Among Black Students
RANCHO CORDOVA, Calif. – VSP Vision™ and Black EyeCare Perspective, a not-for-profit dedicated to redefining the color of the eye care industry 1% at a time, have completed the first year of their multi-year partnership. Over the course of 2022, the partnership hosted two-day, outreach events at three Historically Black Colleges and Universities (HBCUs), including Florida A&M University in Tallahassee, FL; Tennessee State University in Nashville, TN; and Paul Quinn College in Dallas, TX.
The events were in support of Black EyeCare Perspective's 13% Promise and Impact HBCU Program, two initiatives designed to increase equity and representation of Black students in the eye care industry to reflect the percentage of Black people in the current U.S. population.
Students learned first-hand from Black optometrists about pathways to optometry school, academic resources and scholarships, and the role optometrists play in the healthcare landscape. In some instances, students shared that their school's event allowed them to meet a Black optometrist for the first time.
Black EyeCare Perspective Chief Visionary Officer Essence Johnson, OD, FAAO, Dipl ABO said, "Our message with the IMPACT HBCU program is 'If you see it, you can be it.' That's why we have boots on the ground at Historically Black Colleges and Universities, which produce more Black professionals than any other higher learning institution." She continues, "When it comes to optometry, we look to advancing our profession through technology, but a form of advancement is diversity. With more Black optometrists, the Black community can have increased access to care and experience better health outcomes."
Students were also introduced to careers in vision care as a whole, including opportunities at VSP. And for students who previously didn't have access to vision care, they received an eye exam at no cost via a VSP Vision™ Eyes of Hope® mobile clinic parked on their campus.
VSP Vision Vice President and Chief Diversity Officer Marvin Davenport, "We're truly grateful for our partnership with Black EyeCare Perspective and the opportunities we've had this year to impact so many students and the eye care industry. We look forward to planning additional mobile clinic events at HBCUs, annual scholarships for Black third-year optometry students and mentoring and leadership development programs.
To learn more about VSP's commitment to diversity, click here.
###
About VSP Vision
At VSP Vision™, our purpose is to empower human potential through sight. As the first national not-for-profit vision benefits company, this is what drives everything we do.
For nearly 70 years, VSP has been the leader in health-focused vision care. Every day, the people that power our complementary businesses—VSP® Vision Care, Marchon Eyewear, Inc., Visionworks®, Eyefinity®, Eyeconic, VSP® Optics, and VSP® Ventures—work together to create a world where everyone can bring their best vision to life.
That means providing affordable access to eye care and eyewear for more than 85 million members through a network of more than 41,000 doctors. It also means expanding access to vision care to those disadvantaged by income, distance, or disaster through VSP Vision™ Eyes of Hope®. To date, more than 3.6 million people in need have received access to no-cost eye care and eyewear through one of our Eyes of Hope programs.
Learn more about how we're reinvesting in greater vision, health, and opportunities for all at vspvision.com.
About Black EyeCare Perspective
Black EyeCare Perspective (BEP) was designed and created to cultivate and foster lifelong relationships between African American eye care professionals and the eye care industry. BEP is creating awareness and changing the narrative of the role of optometry from a profession, provider and patient perspective. BEP is creating brave spaces and facilitating courageous conversations within the eye care community through diversity, equity and inclusion initiatives. BEP is changing the mindset of the next generation of eye care professionals to impact the industry in ways we have yet to see. The Black Eye Care Perspective Pre-Optometry Club (BEPPOC) is the first nationally recognized pre-optometry club by the Associations of the Schools and Colleges of Optometry (ASCO) that was established in 2020 to ensure not a single, potential Black or African American student or optometrist is ignored, discouraged or disadvantaged. With a membership of over 130 Black future optometrists representing 76 unique undergraduate institutions, 20 being Historically Black Colleges and Universities (HBCUs), 90% of the inaugural cohort matriculated into a school or college of optometry and was connected to over $100,000 in resources, scholarships and grants.
 To learn more about Black EyeCare Perspective, their initiatives, BEPPOC and ways to support visit: www.blackeyecareperspective.com.